An Indonesian airliner has crashed into the sea with 189 people on board.
The Boeing 737, owned by the low-cost airline Lion Air, went down after taking off from the capital Jakarta.
Flight JT 610 was headed for the western city of Pangkal Pinang. Rescuers have recovered some bodies and personal items, including baby shoes.
There is no sign of survivors. The cause of the crash, which involved a plane that had been in operation since August, remains unclear.
The incident is reported to be the first major accident involving a Boeing 737 Max – an updated version of the 737.
"We need to find the main wreckage," said Bambang Suryo, operational director of the search and rescue agency. "I predict there are no survivors, based on body parts found so far."
Families are being told to go to a hospital to identify the dead.
What happened?
Flight JT 610 took off from Jakarta at 06:20 on Monday (23:30 GMT on Sunday).
It was due to arrive at Depati Amir airport in Pangkal Pinang an hour later but 13 minutes into the flight, authorities lost contact.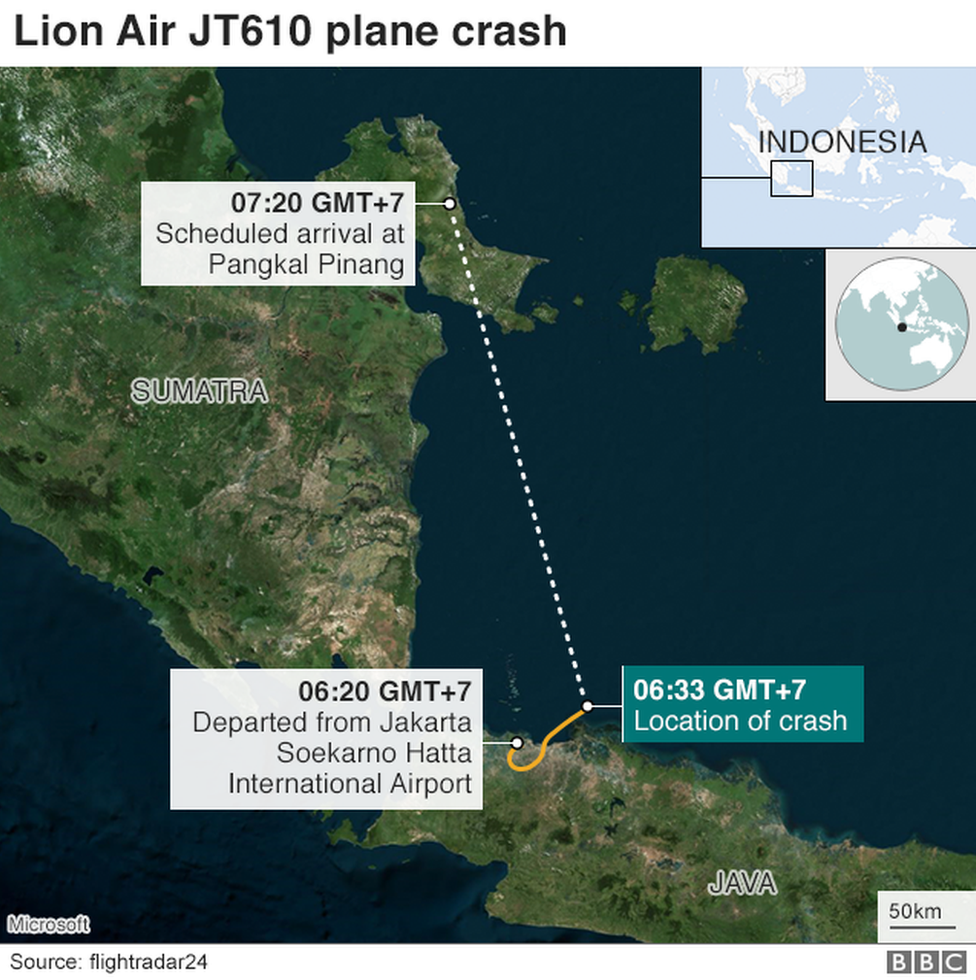 The pilot had asked to return to Jakarta's Soekarno-Hatta airport, officials say.
Lion Air Chief Executive Edward Sirait said the plane had an unspecified "technical issue" on a previous flight, but he said that this had been "resolved".
The airline operates 11 Boeing 737 Max 8 planes but the others have not had a similar technical problem and there is no plan to ground the fleet, he added.
The head of Indonesia's disaster agency, Sutopo Purwo Nugroho, has tweeted images of debris and personal belongings that came from the aircraft and had been found floating in the sea.
Beberapa serpihan pesawat Lion Air JT 610 yang jatuh di perairan Karawang. Pesawat membawa 178 penumpang dewasa, 1 penumpang anak-anak dan 2 bayi dengan 2 Pilot dan 5 FA. Basarnas dan Kementerian Perhubungan terus melakukan penanganan. Beberapa kapal tug boad berada di lokasi. pic.twitter.com/Gb6P4zjCQF

— Sutopo Purwo Nugroho (@Sutopo_PN) October 29, 2018
He also shared a video he said had been taken from a tugboat off Karawang, just east of Jakarta, which appeared to show floating debris and an oil slick.
Debris was also seen near an offshore oil refinery operated by state-owned energy firm Pertamina, an official from the firm said.
---
'I can't live without her, I love her'
by Rebecca Henschke, BBC Indonesia correspondent, Jakarta
Relatives of those on board are waiting anxiously for any news at a crisis centre at Jakarta's Halim Perdanakusuma airport, their faces stained with tears.
At a desk under a white tent, Lion Air staff are taking down their details. At the top of the forms, they are asked to specify their relationship to the missing – husband, mother, child.
Murtado Kurniawan's wife was on the plane. They are newly married and she was making the journey for work.
"I can't live without her, I love her," he says through tears. "The last thing I said to her, was 'be careful'. I always worry about her when she goes away. When I saw on TV that the plane had crashed, my whole body went weak."
Dede dropped her niece Fiona Ayu and her family off at the airport on Monday morning, to make the short journey home. Fiona is trying to get pregnant via IVF and her family thought it would be good for her to get some rest.
"The airline kept telling us to wait and wait for news, but the images on social media and television are very bad," Dede says. "But I am still holding out hope that she will come back, I am praying and praying for that."
---
What do we know about those on board?
Lion Air said in a statement that the pilot and co-pilot were experienced, with more than 11,000 flight hours between them.
Three of the crew on board were trainee flight attendants and one was a technician.
Twenty employees from Indonesia's finance ministry were also on board, the BBC has learned.
A ministry spokesperson said they worked at the finance ministry offices in Pangkal Pinang but had been in Jakarta for the weekend. They routinely took this flight.
What do we know about this aircraft?
The aircraft was a Boeing 737 MAX 8, a model only in commercial use since 2016. The 737 Max series are the fastest-selling planes in Boeing history, and there are four models – the Max 7, Max 8, Max 9 and Max 10.
Nearly 4,700 orders have been taken from around the world, according to Boeing.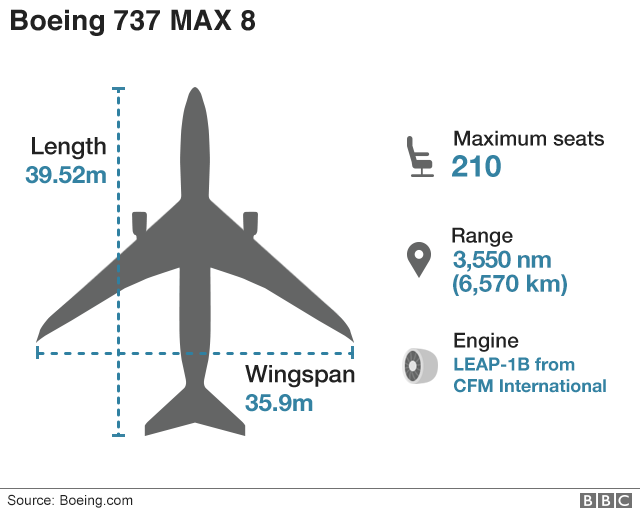 Lion Air said the aircraft involved in the crash was made in 2018 and has only been operated by the airline since 15 August this year.
It is a single aisle plane used for short-haul travel.
Mr Sirait told Reuters news agency: "We don't dare to say what the facts are, or are not, yet.
"We are also confused about the why, since it was a new plane."
In a statement, Boeing expressed sympathy for the victims and families and said it "stands ready to provide technical assistance to the accident investigation".
Australia told government workers and contractors to stop using the airline until the findings of the investigation were out.
How is Lion Air's safety record?
Indonesia, a vast archipelago, is heavily reliant on air travel, but many of its airlines have a poor safety record.
Established in 1999, Lion Air operates flights domestically as well as a number of international routes in South East Asia, Australia and the Middle East.
It has had issues of safety and poor management in the past and was banned from flying into European airspace until 2016.
In 2013, Lion Air flight 904 crashed into the sea on landing at Bali's Ngurah Rai International Airport. All 108 people on board survived. In 2004, flight 538 from Jakarta crashed and broke up on landing at Solo City, killing 25 people.
In 2011 and 2012 there was a spate of incidents where pilots were found in possession of methamphetamines, in one incident hours before a flight.